Seven steps for a successful first business meeting
Want to ensure that your first meeting with a potential client is as effective as possible? Follow these 7 steps to success that have worked for many of the professionals we work with.
1. Pre-meeting planning and preparation is essential
Make sure you know who will be there and what their objectives are (as well as yours). What do you know about them? Has anyone from your business worked with anyone at their business before? Send a confirmation email and let them know who's coming from your end.and confirm date, time and location.
2. Arrive Early
On the day of the meeting, arrive early. Not too early, but in time to allow the meeting to start at the allotted time and to give you time to prepare yourself and become familiar with your surroundings. Being flustered could make you appear unprofessional and less capable.
Greet your potential client with a warm handshake, remembering to look them in the eye & introduce yourself with confidence.. Be warm and engaged. Non-verbal messages are being sent at this stage and first impression re being formed!
3. At the beginning of the meeting
Thank them for their time and ALWAYS check what time they need to finish by. It will mean you can ensure you don't miss out on anything that is vital to your discussion.
Selling skills training for senior people
Increase your confidence and competence, and achieve a better win-rate with greater margins

4. First Part of the Meeting
The first part of the meeting should be quite short, no more than 10 minutes of an hour long meeting. Use this time to position yourself and your organization in a clear, succinct way but don't get stuck talking about you. Move the conversation into learning about them with a well thought out question. Make sure you use more open questions than closed, to help them feel engaged and allow you a full understanding of them and their world.
5. Make Notes
Don't pounce when the client says something that you think might be an opportunity. Instead, make a note of what they've said, so you can come back to it. Investigate their needs using thought provoking questions, so you can develop the best understanding of their world before giving any advice or solutions. This is known as the Iceberg Principle and we talk about it more here. (Further reading also available here).
6. Summarise
With 15-20 mins to go, start to summarise the key points as you have understood them and seek the client's agreement that your interpretation is correct. It's THEN time to move into what we call the Inspire phase of the meeting, where you set out exactly how you think you can help them.
7. Finally
ALWAYS conclude by agreeing the next steps. It's important that you both leave the meeting being absolutely sure as to what is expected from both parties.
Download our Free Guide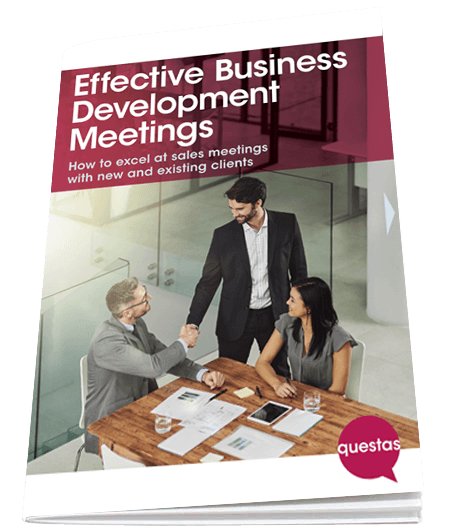 Sales Training Designed for the Professional and Engineering Services